1/ KAROLINUM: CONFERENCE OPENING
The official opening will tak place in Karolinum, Charles University Rector's Office historic building (Ovocný trh 3-5, Praha 1). The plenary session will be followed by an opening reception.
Karolinum is a complex of buildings located in the Old Town. It is a national cultural monument and a symbol of Charles University, founded in 1348. It used to be a residence of the oldest building of the Prague University and later the Great Hall of residence (Collegium Caroli) which was founded by Emperor Charles IV for the twelve masters of the Prague university college. The unique building belonged to Charles University since 1383 when the son of the University founder, king Wenceslas IV, obtained one of the most imposing Old Town palaces which had been built shortly before by a rich patrician, a royal mint master and a banker, Johlin Rotlev (Rotlow). From 1386, Carolinum served as a residence of the Prague professors who taught and lived here. Nowadays, Carolinum is a ceremonial assembly point of the Charles University and a venue of the offices of the rector, academic representatives.
How to get there:
Metro: "Mustek" stop (Line A, green) or "Náměstí republiky" (Line B, yellow) and 5 minutes's walk.
Tram: The closest tram stop is "Vaclavske namesti" (600m), 10 minutes' walk.
2/ HOLLAR: MAIN CONFERENCE VENUE
The main conference program will take place in the building of the Faculty of Social Sciences (Smetanovo nabřeží 6, Prague 1). The building is situated on the Vltava embankment near the Czech National Theatre, next to the iconic coffeehouse Cafe Slavia.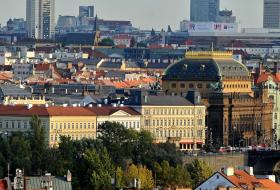 How to ge there
Tram: "Národní divadlo" stop (tram 2, 9, 18, 22, 23 and 17).
Metro: "Národní třída" stop (Line B, yellow) or "Staroměstská" stop (Line A, green) and then 10 minute's walk or tram.
3/ OBECNI DUM: CONFERENCE DINNER (Friday, September 21st)
The conference dinner on Friday evening will tak place in the Pilsner restaurant of the Prague's Municipal House.
Prague's Municipal House was built from 1905 to 1911 and is one of the most remarkable constructions of Prague Art Nouveau. The café, the French and the Pilsner restaurants, the American bar, the Lord Mayor's Salon and the Smetana Hall are all examples of perfectly executed Art Nouveau interiors, decorated by leading artists and sculptors such as Alfons Mucha, Jan Preisler, Ladislav Šaloun, and others. Lovers of Art Nouveau can take a guided tour of the whole building.
How to ge there
Tram: "Náměstí republiky" stop (tram 6, 8, 15 and 26).
Metro: "Náměstí republiky" stop (Line B, yellow).